Cheyenne's Web Page
Dachshund / Mixed (short coat) : : Female : : Young : : Small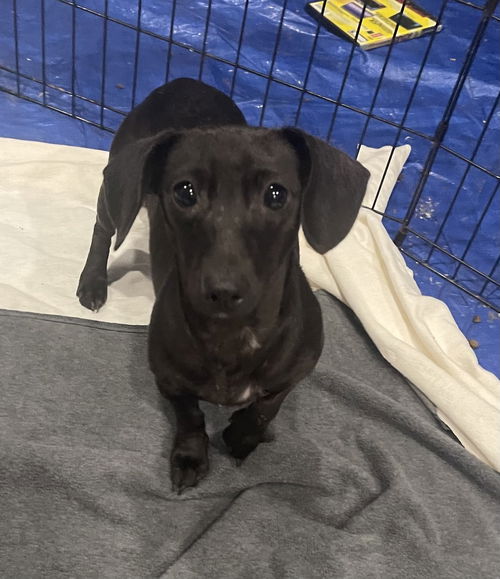 Interested in adopting?
Learn more about the Dachshund.
Print an adoption flyer for Cheyenne!
About Cheyenne

Status: Available for Adoption (adoption info)
Species: Dog
General Color: Black
Note: Cheyenne is the most scared and difficult of the dogs we took in from the hoarding situation. Cheyenne will bite when you try to pick her up. She bites to break skin---we use bite gloves with her and she still leaves marks. She isn't a bad dog or a mean dog; she is simply terrified. She currently cannot be touched, either. She is coming closer to the humans in her foster home and will accept cheese from them, but she will not come sit with them or cuddle. She will needs several months to decompress, and may never be a dog that is able to thrive in social situations. She currently uses the doggie door and pee pads for the bathroom. She has not been able to be acclimated to leash-walking yet due to her extreme fear of being near humans.
Hi everyone, my name is Cheyenne. I'm approximately 2 or 3 years old. I've spent my whole life with 60 other dogs and having tons of puppies. Due to my previous situation, I'm still getting used to humans so I get scared when they pick me up. I will need time to decompress when you take me home.. My foster mom is currently working on showing me that humans are good and working on my basic training with me. She also calls me beautiful (I love that). Oh and I love treats! My only wish is that my forever home can be patient with me and not give up when I'm scared.
More about Cheyenne